Im coming down with a case of Vinceanity(Big No Homo)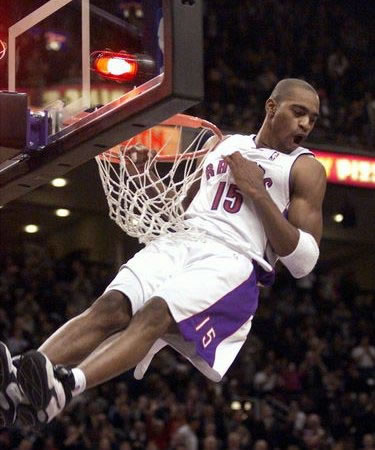 Corny titles aside, Vince Carter is turning into the player insiders never thought he could be. I have never been a Carter fan. I have always thought that outside of dunking, he doesnt really bring anything to his team. I would watch Raptors games and see him jack up 3 after 3 and then occasionally on a fast break go in for a dunk. I never was impressed and I never understood why everyone seemed to be enamored with him.
However, after being traded out of a situation that he didnt like, I would put money that there hasnt been a better player in the league. Since the trade from Toronto to New jersey Carter has averaged close to 30 points. He is responsible for the Nets being in the playoffs and last night he was nearly responsible for allowing Jersey to escape a sweep at the hands of the Heat. In one of the better early round playoff games, Vince Carter sent the game into double overtime on an unbelievable shot off an inbounds pass at the buzzer. With 2.3 seconds left he shot from just inside the arc, the ball bounced around the rim hit off the backboard and went in.
Now the Nets have no chance to win this series, and maybe if Jefferson can learn how to put down a layup* this series would be 2-1 instead of 3-0 but I digress. The bottom line is that Vince Carter has shown me and the league that he is in part worthy of the praise that he has recieved since he entered the league from North Carolina.
*
seriously that missed layup was ridiculous